In this issue -->
Who Else Needs to Control Labor Costs,
but Has Constantly Changing Demand?

Does it seem like your labor costs go up and down with the weather?

That's how it actually is for one of America's top car wash companies, recently recognized by The Wall Street Journal as one of the Top Small Workplaces for 2009.

When it's sunny, people want their car washed right now. When it starts raining, suddenly no one wants a car wash.

How do you adjust your labor costs to that?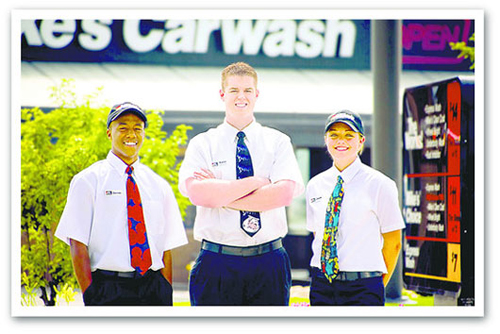 Mike's is known throughout the midwest for their excellent customer service.
Mike's has used Gainsharing to keep labor at or below targeted levels and reduce turnover for many years.

Last year, $569,000 was paid out in Gainsharing, averaging approximately $1.25 per hour extra pay per employee.

Mike's Car Wash Inc. is no small company. Last year it had $55 million in annual revenue, 37 locations and 437 full time equivalent employees (261 full-time, 352 part-time).

Each car wash location sets targets for labor costs. If the location beats these targets, the "gains" are shared among the non-managerial employees. They also require all employees to watch a weekly 10-minute video with information on new company practices, customer service information and other job related news.

Further information from the Wall Street Journal article about Mike's selection as one of the Top Small Workplaces 2009 can be found by clicking here.
---
Whenever you're ready . . . here are six ways we can help you:
1. Gainsharing Executive Briefing DVD
This free DVD gives a quick primer on Gainsharing and its "must have" features. It was created by a television producer and includes on-site interviews with actual Gainsharing users. Click here to request your free copy.
2. Gainsharing BluePrint
Answers the question "How could this be applied in my Company?" Outlines both the formula and "Boots on the Ground" connection fundamentals required for an effective Gainsharing system. Click here to request more info.
3. "40 Minutes to a 5 to 15% Productivity Improvement" Webinar
Learn how to motivate employees and give them "skin in the game" to drive results. Click here for direct access.
4. Invite me to speak for your group or trade organization
I would be pleased to serve your trade organization or other groups as a speaker. Click here to email me about your opportunity.
5. In-person, on-site presentation at your company
Let's put a presentation together for your Management Team and others. It's an ideal way to explore how Gainsharing applies to your specific circumstances without the cost or inconvenience of travel for your people. Click here to email me to discuss customizing the presentation for your Company.
6. Webinar for your company
We can also develop a custom webinar presentation for your company. This makes it easy to get a quick overview using technology to maximize convenience. Click here to email me to request more info.
---
You can also send your questions to chuck@gainsharing.com or call 317-371-1021.
---
About the Author:

Dr. Charles (Chuck) DeBettignies is an author, speaker, seminar leader, Gainsharing expert, and founder of Gainsharing Inc.
His company implements Gainsharing processes to motivate employees to pursue great performance with a performance-based pay reward system that leads to an improved bottom-line at the same time.
Many companies say it's the single best thing they ever implemented for both their company and employees.
Gainsharing Inc. specializes in Gainsharing Systems, and offers design, implementation, and assistance to drive impressive, lasting success.
---
Gainsharing Inc.
P.O. Box 501548
Indianapolis, IN 46250
317-877-0375
chuck@gainsharing.com


© 1997-2017 Gainsharing Inc. All rights reserved.